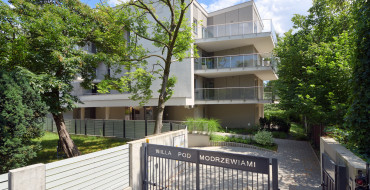 The building is located in the Kraków city centre, between ul. Olszyna and ul. Narzymski, surrounded by interwar villas and their gardens as well as low, multi-family homes.
The 3D-Architects firm, which was responsible for designing this intimate building, has, in a very successful manner, merged the use of modern architectural forms with integrating this new investment into its surroundings of neighbouring interwar villas. The building's luxurious character is emphasised by its impressive façade and the high quality of each detail.
The building is located in the City Centre, at ul. Olszyna 8a, and in the second line of buildings. It is near the modern public transit junction, Rondo Mogilskie, enabling quick and convenient public transit to every part of Kraków. Nearby are shops and service centres, on ul. Pilotów is, among other, the Alma supermarket and the DIY market Castorama.
This three-storey building contains just 12 apartments, with three on each floor. Flats being offered: three-room flats measuring 60.5 m2 to 75.4 m2 and four-room apartments measuring 96 m2. Each apartment has a balcony or terrace, and the terraces of the flats on the ground floor additionally are adjacent to the garden. Below the building is a large underground garage with 17 spaces. All floors are connected by a noiseless elevator.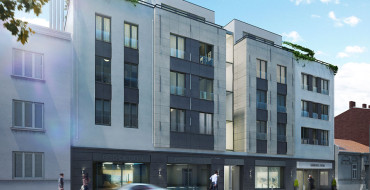 A unique, luxurious apartment building located at ul. Prochowa 9 on the border between the Kazimierz and Grzegórzki districts. A short walk is all it takes to reach all of the places connected with the history of Kraków: Wawel, the Skałka church and the historic Old Town. It is also close to the Vistula Boulevards, where one can find bike paths, barge restaurants and a beach with a swimming pool. The neighbourhood also is home to the Galeria Kazimierz mall, a favourite place in Kraków for entertainment and shopping.
The NOVA Tenement House is a combination of elegance, modernity and exceptional comfort. The front elevation is finished with natural stone and the well-considered arrangement of the common spaces gives this investment a luxurious character. A monitored entrance leads into a lobby through an elegant walkway. The flooring of the public areas is made of white and black marble, and the mosaic in the passage is laid out in granite. The quality of the spatial and technical solutions is equal to the standards of prestigious buildings located in elite neighbourhoods of European capitals.
This elite, intimate building consists of just 31 apartments, which can be combined, arranged and furnished according to the needs of our clients. On the ground floor at the front, there is commercial property for sale or rent.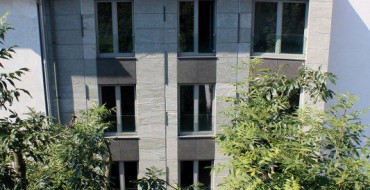 A new building with elegant, contemporary architecture, located on ul. Feldmana 6, in the region of ul. Karmelicka. It takes less than a quarter-hour to walk to the Main Market Square [Rynek Główny], and the neighbourhood contains many traditional recreational areas of Kraków such as the Planty park and the Krakowski Park. The most beautiful sites in Kraków, schools and universities, as well as the city's favoured places for entertainment are all at your fingertips. Additionally, the Pearl Tenement House is tucked away on a quiet backstreet, guaranteeing residents tranquillity and an atmosphere of privacy. The building fits in harmoniously with the surrounding tenement houses from the interwar period, and is distinguished by its original façade with grey slate and black marble.
The Perłowa Tenement House consists of just 14 apartments, from studios measuring 33 m2 to four-bedrooms measuring 140 m2. The exclusively arranged public areas, particularly the lobby and staircase, are decorated with bold compositions of marble and copper, emphasising the building's luxurious character. Purchasing an apartment in the Perłowa Tenement House does not only provide comfort and prestige, but, thanks to its high standards and consistently desired location in the Old Town, is also an ideal investment for many generations.

Amber House at Chałupnika 4 St
multi-family house with 3 to 5 storeys, a total of 82 apartments; underground garage, parking and children's playground. The housing settlement is fenced and monitored, and it has a form of gated community.

Apartments Four Crowns at Pilotów St.
a luxury residential complex in the Kraków city centre, consisting of 4 buildings – a total of 129 apartments. The housing settlement has security and is monitored. It has an extensive recreational area, volleyball court, playground, underground garages and parking lots.

Complex of multi-family houses at Mała Góra St.
small housing settlement consisting of 4 buildings with 36 apartments in total.

Cherry Orchard Settlement at Mała Góra St.
housing settlement consisting of 4 small buildings with a total of 45 apartments, with parking and a playground.

Settlement of single family houses Oak Park at Jana Korepty St.